Who is 360i?
Your Professional Solution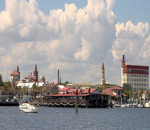 Our company founders have over 29 years experience in bookkeeping, banking, and office administration/organization, with staff members possessing extensive hours of training and professional certifications in various areas of expertise including accounting. We can customize a plan containing an array of services built around your business' needs.
Our staff is trained in all aspects of business operations and can work on-site or off-site via remote means with periodic updates and reports, depending on your requirements.
Our staff all posses a degree in accounting, are QuickBooks Pro certified advisors and are certified bookkeepers. Eva Grafft-Muskett, owner and operator, is a member of the Women Business Owners of North Florida and has been practicing bookkeeping and accounting for the past 8 years. Eva is a proud native of St. Augustine and enjoys giving back to her community by providing affordable solutions to small business owners of St. Augustine and the surrounding communities including Jacksonville.